Hi all.
I've just joined these forums recently, and thought I'd toss in a debut post showing my last remaining Eric Moller lures.
I moved to Gordonvale during the early '70s and a bunch of us high-school kids would pool our pocket-money whenever someone was heading south, so that they could buy us a swag of Moller lures along the way. When I eventually went to uni in Townsville, the frequent trips home meant I could drop in on the way through and grab a few more lures each time myself. The Mulgrave and Russell Rivers were full of jacks in those days, and unfortunately most of the lures ended up in the guts of some deep snag or other. We dived for them when we could, something I wouldn't do in the tidal-fresh reaches of those rivers today!
Anyway, the earlier thread showed what might be a Moller lure with thin stainless eyelets, something I never saw in the 1970s, so can't pass comment on that. All the ones we bought from the man himself had heavy galvanised wire eyelets, and all were fitted with 3x-strong Eagle Claw trebles.
Once settled in Townsville I bought lures from George Dempster occasionally, still have a handful of them left too.
Aw, what the heck, off topic but here they are anyway: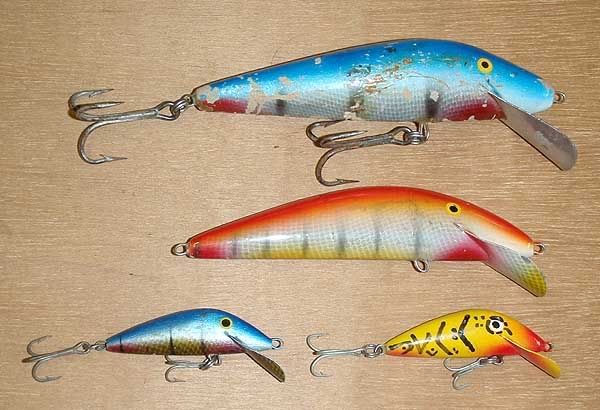 Of course, we made a shed-full of our own lures along the way, many modelled on the black-n-yellow Heddon Tiger pattern as copied by Eric Moller. I still have quite a few of them surviving as well, but that is another story.
Cheers