Dropped in to the local op-shop this morning where a bag of miscellaneous rubber lures for ten bucks caught my eye. Amongst the assorted rubbish was a half-dozen brand-new Manns rubbers, still with tubing on the hooks, and a little-used 'pink thing' saltwater fly in good nick, so I had already broken even. What had really attracted my attention was a little 1 1/2-inch Flopy in passable condition with original tiny double-hooks, but that is another story. When I got home and unpacked the bag, I also found this little unseen gem:

There was a similar lure around when I was a kid, but I never owned one. It was referred to as a Pecos 'Articulated Trout', at least that was the description given to it in the few publications in which it appeared at the time.
It was quite distinctive with the bib on the back, like this one, which has only the words 'Depose France' on the bib.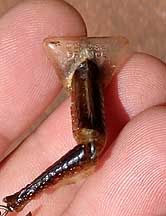 Is this the same lure? Was 'Articulated Trout' the name on the packaging? Anyone know where the 'Pecos' came from?
Thanks for your help.