Here are a couple of Werner Kossman's lures from the 1970s, the Bristle Jig, and the WK Arrow (this one 3 ounces):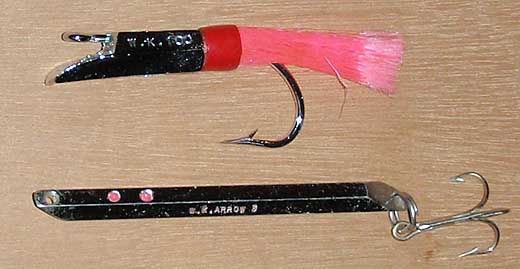 The jig is marked "W.K. 100".
Werner also made the WK Bristle (a straight troller or rock-spinner) in several sizes, and several other sizes of Arrow.
The bristles were unconventional at the time and caused a bit of a stir as I recall, but they
worked
!
Werner Kossman was a real character, an inventive genius as well as a seriously keen fisho, holding many Australian and World records.
A true Aussie angling legend.
He died in January 2006 aged 84 years.
Heres a pic of Werner and his second wife.
He remarried at age 82, arriving on a Harley!
...complete with all his fishing gear!!
(in case she didn't turn up!)