Now who in their right mind would collect these bloody things?!!
Based on the ancient Polynesian whale-bone jigs, these unsophisticated yet highly effective trolling lures were the mainstay of the commercial mackerel fishery in this counrty prior to the arrival of the Huntington Drone. I dragged a transluscent pink one for literally hundreds of sea-miles off the North Queensland coast during the 1970s and never went without a feed of fish.
Pictured (left to right) are a Halco Smith's Jig 6-inch; Halco Smith's Jig 5-inch; original Smith Jig 5-inch; Kilwell 4-inch; original Smith Jig 3-inch; Halco Tuna.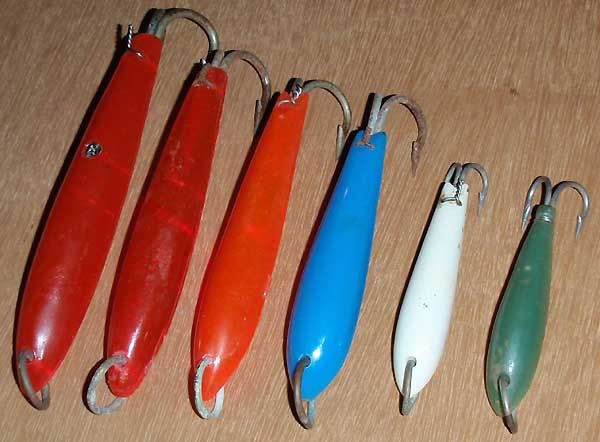 Halco still make this lure today, in four sizes (3, 4, 5, and 6 inch) and four colours (red, pink, white, and chrome-silver).
Not as glamourous as collecting Aussie timbers, but an interesting piece of our fishing heritage just the same!