Hope nobody minds if I start a thread, but I didn't want to de-rail the last one! There seems to be a few Jitterbug enthusiasts on here so I'd like to share some information/pictures...If anyone has any questions..don't hesitate to ask!
As previously mentioned I've collected Jitterbugs for about 12 years...In that time I've gathered a collection of over 300 different Jitterbugs. A lot of my purchases have came from eBay, and direct sales from other collectors. I still pick up a few Jitterbugs a year, but it's tougher to find ones I need now as opposed to 10 years ago!
I'll start with some information on my favorite Jitterbugs.
These Jitterbugs (with the exception of the top right hand corner Natural Cedar) were ordered special from the factory by collector Billy Prince. He ordered 2 of each in roughly 110 different colors. There are a handful of colors he ordered 3 of each. He ordered them for a price of 3 for $25! Billy was a well known Jitterbug collector 15+ years ago, and had a good relationship with the Arbogast factory!). 1 complete collection of these Jitterbugs is known to exist, and it has changed hands several times...the last time was 2007. I was offered a chance to purchase the collection, but I couldn't afford the $18,000 asking price! The other collection was split up, and forgotten about until 2 years ago when a collector found it. I managed to purchase 15 from him. I had previously came across the white head/blue off eBay around 2000 or so, it's one of the colors that 3 of each were produced. I have copies of *most* of the invoices for the paperwork from the Arbogast factory and Billy Prince. Billy also ordered a number of special 5/8oz Jitterbugs. I do not have any of those, but I have seen most, if not all of them. I was offered opportunities to purchase a good portion of those, but at the time had just committed to buying a number of rare Jitterbugs from a large collection, so I had to pass. Some pretty wild colors on the Musky Jitterbugs! I love the 2 blue-scale ones in the bottom right hand corner. One has a yellow belly, one has a white belly.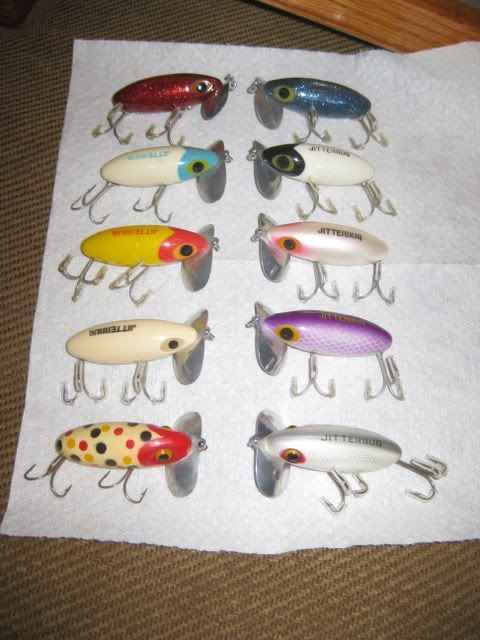 Those Musky Jitterbugs are my favorite...these are my favorite 5/8oz Jitterbugs.
Top Pair: Red Glitter Ghost and Blue Glitter Ghost. Pradco (The company which now owns the rights to produce Fred Arbogast baits), is now producing these two colors out of Japan. There are some distinct differences between Arbogast and Pradco Jitterbugs, I will go over this in perhaps another post! These 2 are legit Arbogast ones. They were offered as special order colors to dealers in 1991 if they ordered a certain quantity of baits. Really difficult to find. I spent roughly 9 years looking for these 2 Jitterbugs!
2nd Pair from Top: Legitimate Arbogast Blue/White from early 1990s, and Black/White. Pradco has also begun reproducing Blue/White, but this one is prior to that. I know another of the Blue/white's exist, but I haven't seen another Black/White like this.
3rd pair from top: Red Head/Yellow and Pearl. Never heard of another Red Head/Yellow, and Pearl at one time was a factory color, but this style (Plastic bait, flat eye) was special ordered.
4th pair from bottom: 2 special order colors..bone and purple scale.
Bottom pair: The Red Head/Polka dot is...probably one of a kind. Bait dates to late 1940's/early 1950's based on Hardware/Body/Eye style. I found this bait in 2007 or so in the collection of a man who "accumulated" thousands of lures through the previous 20 years, and he had found it in Ohio. I showed this bait off a lot when I found it, and Pradco is now producing this color on some Jitterbugs for the Japanese Market! I think, if sold, it might come close to setting a record for a Jitterbug in price. The bait across from it is White Scale, which by the time this bait was produced (1960s) was a special order color.
Those are some of my favorites. I'll post more when I get a chance, but it's time for me to eat!
Kevin