Anyone got a better example of the Heddon Commando to show?
This one has been living in my daughter's tackle-box for the last 15 years and is sadly the worse for wear.
The lovely fine gold single-hook it came with has regrettably not survived.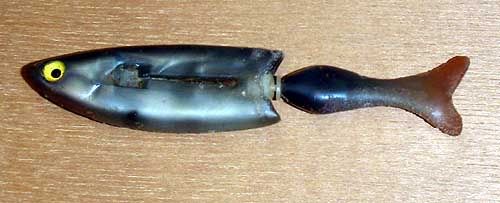 This would be one of the few early soft-plastics I guess, most of the early soft-bodies like the Flopy, Plucky, Vivif minnow, etc, were rubber I believe.
I bought this one new in Townsville some time in the late 1970s IIRC. Probably from Lounds: they ended up with most of my expendable currency in those days....