bass_n_b.o.b
SSHHOOOOOOSS >> WAZZA..
---
Wazza,

The very first handful of Downunder Boomerangs didn't have the stamp on the bib. That was before they went to the scalloped belly on the lures though, more rounded with a slimmer nose and tail.

The tow point isn't one they used and seems to indicate a copy made by someone else or one doctored after market.

Schultzy.
If You Can Not Stand Behind Our Troops,
Please Feel Free To Stand In Front Of Them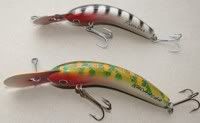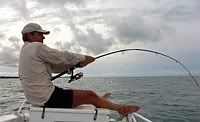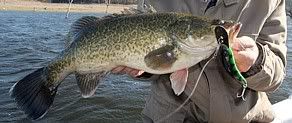 ---
Vince
Warren.. This is one of Wayne Lennon`s
You do not have the required permissions to view the files attached to this post.
---
Master

Posts: 2833
Joined: Tue Nov 06, 2007 5:37 pm
Location: Brisbane, QUeensland
Hi Guys,
I won't pretend to be an expert on early downunders (premoulded) but a couple of features stand out.
There is a difference in the profile and scolloping, but that may be a progressive change in design.
The Tow bridle is like a Luxon only unbranded either of which is not common in Aussie builders.
The 3 holes in the bib are NOT in line and the 2 for the tow bridle are damn close together, potential weakpoint a "true" manufacturer would steeer away from.

I am guessing it is a copy or a very early prototype.

Best advice, as suggested previously, bang an email and pic away to the guys at predatek

Brad
I know what I know, the rest is simply details
acta non verba
---
Greenhorn

Posts: 29
Joined: Wed Jul 01, 2009 7:44 pm
Hi Guy,s These first couple of wooden boomerangs are the Third type of timber. The very first was completly round underneath then they went to a sligthly squarer underneath, then the next with the scolloped sides. The very first were called [ Siren Boomarngs ] They also made some of these three types in a much bigger size nearly twice as big they were called Magum Boomerangs.Thanks Allan A&B Lures.
---
I found out a bit of history on this lure.
Jamie Flett believes it is one that himself and Frank Gaukroger made, Apparentely Frank wanted to have a look at Jamies new copying lathe and in trying it out they cut out 5 or 6 Boomerang blanks and Frank took them away and painted them.Jamie was amazed that one turned up after all these years.
warren
---
Greenhorn

Posts: 4
Joined: Thu Nov 12, 2009 11:14 am
I am pretty sure this lure is one of Wayne Lennons copy of the early bomerangs as he used that pull point with lead in the bib,similar to custom crafted the hooks may not be the oringinal ones
---